Welcome to St. James!


Whether you have been exploring your faith for a lifetime or are just beginning to search, you are welcome here. Bring your hopes and fears, worries and joys, talents and shortcomings. We welcome all of it! Your perspective and your questions are unique. Together we will deepen our ties to God and one another.

At our core, we believe that serving courageously and living faithfully go hand in hand. Every day we step out of our comfort zone and step up to participate in God's work in the world. On Sundays, we gather not only to hear God's word broken open for today's time but also to feast on the sacrament that empowers our lives.

We invite you see first hand what all of this means and how you might get connected!


Sunday Services at 10:30 a.m.
On Receiving Communion: We invite all who seek to walk in faith to join us at the Altar, sharing in Christ's sustaining life. You may stand or kneel at the Altar Rail. Those who have been baptized may receive the Holy Communion with or without the wine and those who have not yet been baptized, may receive, with your arms crossed, a blessing.
---
St. James Building Project Update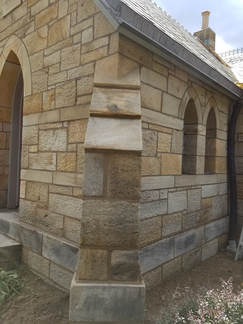 St. James's Physical Transformation
There has been a wonderful physical transformation to our church building over the course of the last several weeks. Much needed repair to the slate roof, foundation, stonework and stained glass windows has been completed or is nearing completion. These improvements and repair to the exterior infrastructure was a necessity to maintain the integrity of the physical church plant and the restored beauty of our church is extraordinary.
Congregational Meeting Planned
At the Bishop's Committee held on Monday, September 11, 2017, an informational meeting for the congregation has been scheduled for Sunday, October 22, 2017 following the service that morning. The meeting will be held in the Parish Hall. At that meeting members of the Bishop's committee and Martha will review the survey results in a fair amount of detail with the parishioners.
This review will center on answers to several key questions that were asked and will include a review of the building projects that have been completed and those proposed; level of awareness of the plans; opinions voiced that established a prioritized list of the projects listed; and estimated level of funding support through a capital campaign.
Church Organ
One of the projects that will be reviewed in much greater detail will be related to the current status and level of repair needed to the church organ. Several parishioners felt that much more information was needed before they could make a decision on what we should do about the organ. A question about previous repairs to the organ has also been raised and needs to be addressed.
The bishop's committee has asked that representatives of the church contact the original manufacturer of the organ and the current contractor who has been servicing the organ for the additional information. A full report will be presented to the congregation so that an informed decision can be reached. As a reminder, there were three levels of repair proposed: 1. Pipes cleaned and repair or with new leathers for an estimated cost of $9,800.00 2. Repair the wind chests at an estimated cost of $26,000.00 and 3. Rebuild the console at an estimated cost of $45,000.00. If all three sub-projects were to be completed the costs would amount to around $80,800.00. As you can see this will be an important discussion that requires input from all in attendance.
Capital Campaign
The Bishop's Committee is not recommending to use our Endowment Funds to support these much needed projects. Additional funding support is needed from members of our congregation and from key stakeholders who have a vested interest in maintaining the church plant. The plan for a 2017 -18 Capital Campaign will be reviewed and discussed with those present. The plan will include details about the structure of the campaign, timeline, and tentative financial goals.
This is an important meeting in the life of our church. We encourage all members of our congregation to attend. We hope to see you there!!



---
Church News

---
---

Interview with Luke Ruot on the Stream


---

Important Episcopal Links

---

---

---

---
---